Professional drivers need professional training
For many years, Meyer Logistik has been improving the training programme for its drivers – also by striking entirely new paths. The transport of temperature-controlled foodstuffs over short distances makes high demands on the drivers and the technical equipment. We have made it our mission to ensure that our employees receive optimum training in using this technical equipment. As part of the "Train the Trainer" programme, new staff members learn from the "old hands" how to optimally handle the technical equipment and seamlessly integrate themselves into the processes of our customers. From the very beginning, they are supported by our latest training instrument, our e-learning adventure entitled "Full steam ahead".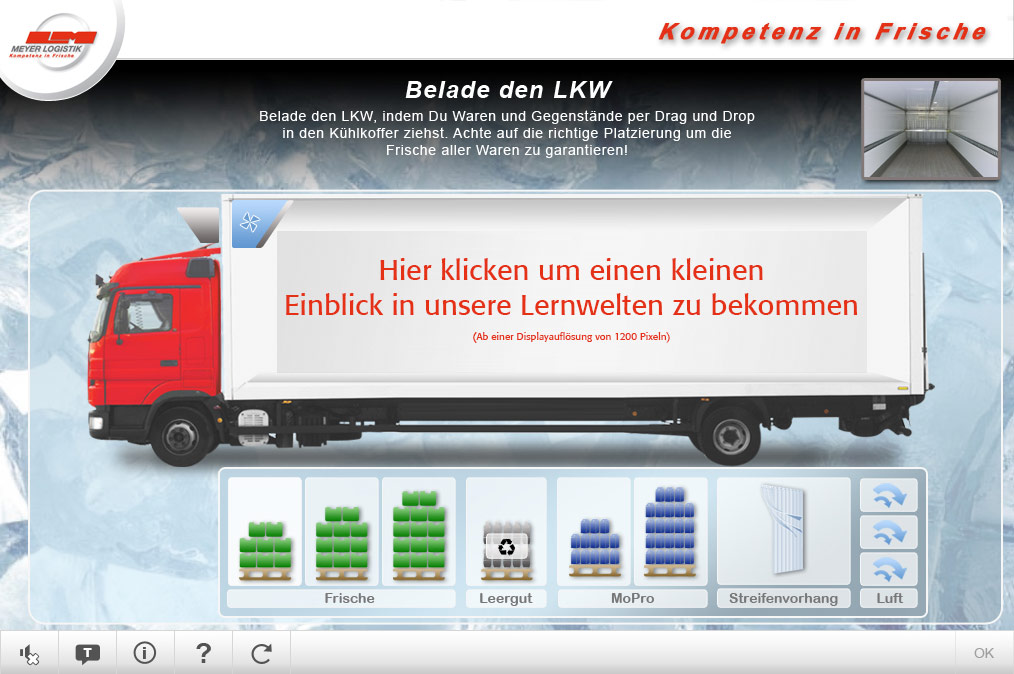 By going on a virtual trip across our branches in Germany, you learn in a playful way how to handle the cooling system, tail-gate lift, digital speedometer and much more. You are already familiar with all this? More or less? Then you will have the opportunity to enhance your knowledge and become highly proficient in these fields. Whether before, after or between two tours or at the weekend in the convenience of your home, our employees have unrestricted, free-of-charge access to our learning platform 24 hours a day, 365 days a year.
Professional driver qualification
"The main thing is 5 training blocks of 7 hours each..." No, this is not what we expect from modular training – and you also expect more, don't you? Meyer Logistik offers all its drivers all modular training courses from the very beginning – adapted to their working hours. We have not just hired someone inexpensive, but the very best we could find! Our training partner Green Duck offers training courses tailored to our needs throughout Germany. For you, this means high-level training at an unbeatable price – namely free of charge.
Driving safety
Safe driving in theory? Let's put it in practice!
Hopefully, our drivers will never need what they learn here. Taking a corner with a tractor and a trailer with supporting wheels until its turns over is an experience that has already floored and shocked quite a few of our employees.

Imagine yourself doing your daily routine, then, out of nowhere, you find yourself in a dangerous situation – how do you react?

Such situations cannot be practiced either at the driving school or in everyday work, which is why we rent airfields for this purpose throughout Germany. Go beyond limits and find the best solution in safe conditions. The best thing about it – it is also part of the modular training.
Eco Training
Saving fuel might not be the most enjoyable topic, but saving fuel means first and foremost – working in a calm and stress-free manner. Whether you look at it from the perspective of environmental protection or economic efficiency, i.e. costs, nowadays nobody can afford to waste fuel anymore. Contrary to the firm belief of some die-hards, aggressive driving saves no time. You only get stressed and run the risk of being involved in an accident and injuring yourself and others. When you get home after work, you feel tired and exhausted.

With experience, calmness and proper planning, you can reach your destination safely and more quickly. This is also the first rule in eco-training. In addition, there are plenty of factors and parameters that have an influence on fuel consumption.

Professional eco-training is mandatory for our drivers. Many of them could have never imagined how much an ecological way of driving can help them feel more satisfied with their work.