A unique career model
We believe that we need long-standing experience in every position, which is why we fill them with our own employees, whenever possible. You can recognise that this is not just an empty phrase by the fact that more than 70% of our dispatchers, 5 of our 9 training managers and 2 of 8 logistics managers started out as drivers in our company (as of 08/2014).

There are many reasons why our drivers may decide to advance their career, be it age-related limitations, the pleasure of taking responsibility or perhaps just the financial incentive.
On-the-job further training
"You grow with your responsibilities..."
We agree with that. But we also believe that this growth needs support. Especially when helping new colleagues, your knowledge must be up-to-date and conveyed in a professional manner. Driver training sessions, technical further training, commercial further training, training courses to be able to better help others: All this can be found in Meyer Logistik's further training programme. Please find more information on our further training programme here.
Basic driver, road professional, training driver, site coordinator
Regardless of their existing experience, all our drivers start out as basic drivers. After they successfully complete the training programme, they can become road professionals. However, this requires immaculate damage records and good consumption figures. Training drivers train new colleagues in vehicle technology and processes, enabling a smooth start for them. Site coordinators are responsible for smooth processes at their locations and are thus already considered executives. Participation in the junior executive development programme is mandatory to live up to this responsibility.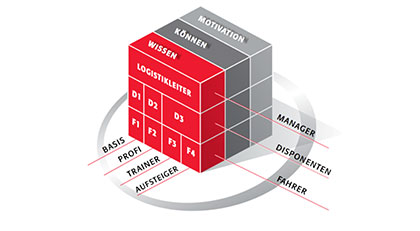 You are not interested in any of this? You just want to drive and nothing more? No problem – you can and have to choose your own way in our company. We will accompany you on this way, no matter how you decide.